Our Story
Immerse Yourself in the History of Parker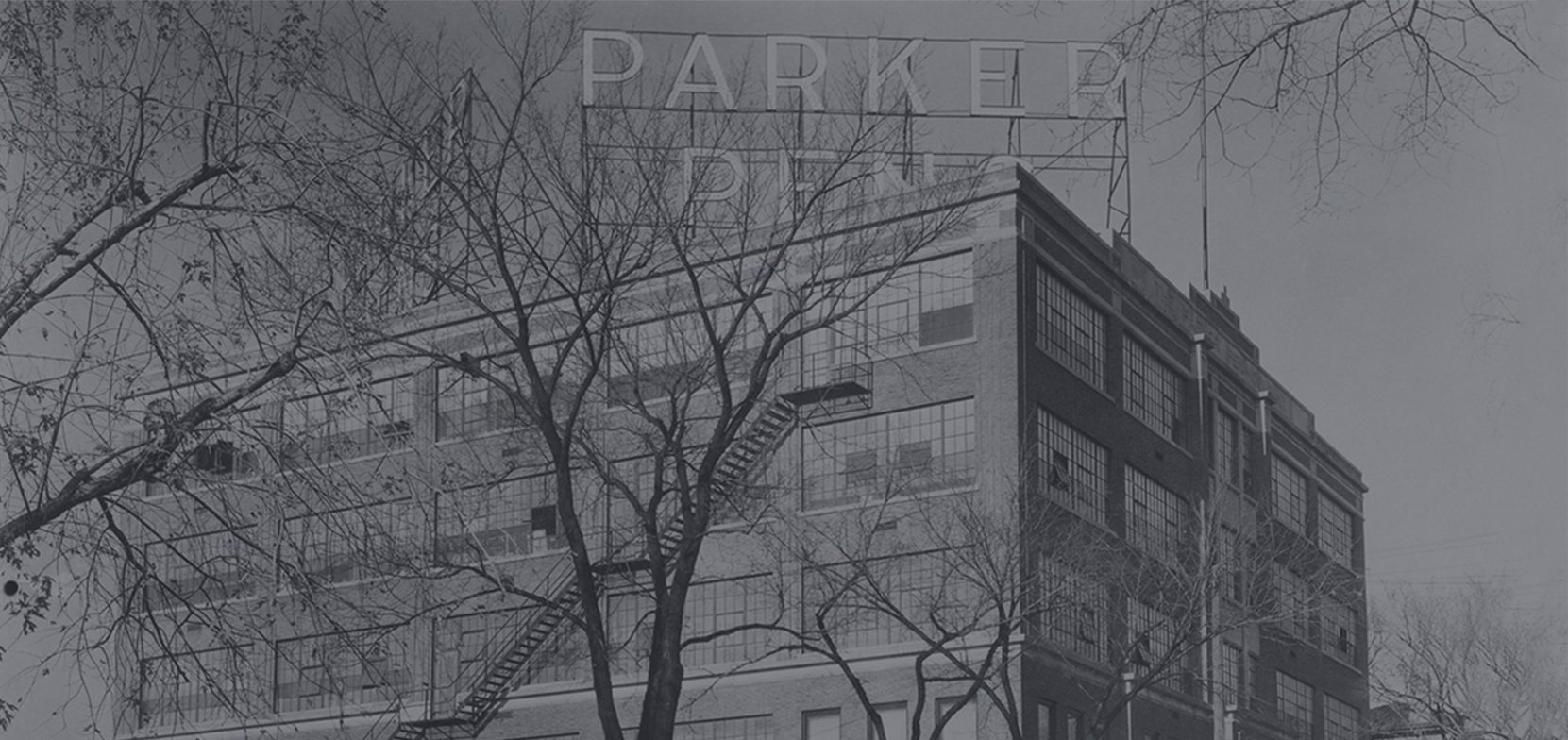 1888 Our Story Begins
Aged 25, George Safford Parker applies for his first pen patent and begins the Parker story with the driving philosophy: "It will always be possible to make a better pen."
1894 A Major Breakthrough in the Pen Industry
George invents the pioneering anti-leak system, the Lucky Curve, Parker's second patent and major breakthrough.
1906 A Fine Art
Inspired by the Art Nouveau movement, the gold and sterling silver Parker Snake pens are launched and will become valuable collector's items.
1914 For King and Country
Parker's Trench pen is designed for soldiers. The pen uses dry ink tablets that are activated by adding water. In this year, Russell Parker also joins the company.
1918 A Million Dollar Brand
Parker's sales surpass the $1 million USD mark for the first time.
1921 An Icon Is Born
Parker launches Duofold, a large, bold, premium-priced pen that captures the spirit of the Roaring Twenties. Soon afterward, Duofold becomes known as the world-famous "Big Red," so named for its vibrant, bright orange color and valued for its 25-year guarantee.
1928 A Breakthrough in Pen Design
Duofold is now made with a beautiful and durable new plastic material proven to resist cracking, whether dropped from an airplane or to the bottom of the Grand Canyon. Parker innovates in marketing and advertising.
1931 Formula #1022
The Parker research department's first product arrives on the market. After three years and 1,021 experiments, a quick-drying ink called "Quink" (formula #1022) arrives. This is the first pen-cleaning ink that dries fast on paper and needs no blotter.
1933 The Vacumatic Pen
The Vacumatic pen is developed together with the now-famous Parker arrow clip designed by Joseph Platt. The innovative pen holds more than twice as much ink compared to pens of its time and has a visible ink reservoir.
1939 Award-Winning Aerodynamic Design
To mark the company's 51st year, the Parker 51st is developed in 1939–1940 and launched in 1941. Inspired by Kenneth Parker's passion for aircraft aerodynamics, it is designed "like a pen from another planet."
1945 In Times of Peace
The World War II German surrender is signed with a Parker 51 provided to General Dwight D. Eisenhower by his friend Kenneth Parker. General Douglas MacArthur uses his wife's Duofold to sign the Japanese surrender.
1954 Jotter Is Born
Production begins on the Jotter, Parker's famous ballpoint pen. The Jotter sells 3.5 million in its first year and remains popular today.
1957 The Iconic Arrow
Designed in 1933 by Joseph Platt, a prominent designer of the 1930s, the famous Parker arrow was inspired by Kenneth Parker's passion for revolutionary transportation and aviation. First featured as a clip on the Vacumatic pen, it symbolizes Parker's pioneering attitude. In 1957, it became the brand's emblem and was evolved in 2015 to match the brand's modern standards of sophistication and luxury.
1962 Royal Recognition
Parker is awarded the Royal Warrant by Queen Elizabeth II, becoming the official supplier of writing instruments to the Royal Household.
1964 The Original Social Network
The New York World's Fair opens. Parker's pavilion features an IBM computer that matches "pen friends" from all over the world, thus becoming the original social network.
1969 A Giant Leap
To commemorate the American moon landing, a special-edition Parker Classic is created. The pen contains a small amount of moon dust.
1970 The Space Pen
Parker launches the T-1. Made entirely of titanium, it becomes known as the "space pen."
1981 Commemorating a Royal Wedding
In honor of the Royal Wedding of Prince Charles, Prince of Wales, to Lady Diana Spencer, Parker releases a unique limited edition of the Parker 105.
1987 The Pen Is Mightier...
Four unique sterling silver Parker 75 pens are custom-made. The pens are used by American President Ronald Reagan and Soviet Secretary Mikhail Gorbachev to sign the Intermediate-Range Nuclear Forces Treaty on December 8th.
1990 Royal Recognition
Parker is granted a second Royal Warrant from His Royal Highness the Prince of Wales.
1993 Sonnet Is Born
The first version of the Sonnet appears, continuing the use of the Cisele pattern from the original Parker 75.
1996 In Memory of Norman Rockwell
A commemorative Duofold edition pen is launched to acknowledge the American artist Norman Rockwell, who produced several pieces of artwork for Parker dating back to 1929.
2009 Parker Premier Is Born
Parker Premier is launched, using innovative and aesthetic materials.
2011 Another Breakthrough Innovation
Parker 5th technology, together with Parker Ingenuity are introduced, revolutionizing the pen industry with an innovative mode of writing.
2013 Words for the Future—Parker's 125th Anniversary Celebration
Parker celebrates the act of writing by collecting, exhibiting, and sharing written words from global and local opinion leaders that inspire, pass through time, and travel across nations for future generations.
2015 For Better Thinking
Parker announces enhancements to the Duofold and Sonnet collections alongside an elevated new take on the Parker brand identity, encouraging people to slow down, organize their thoughts, and embrace better thinking.