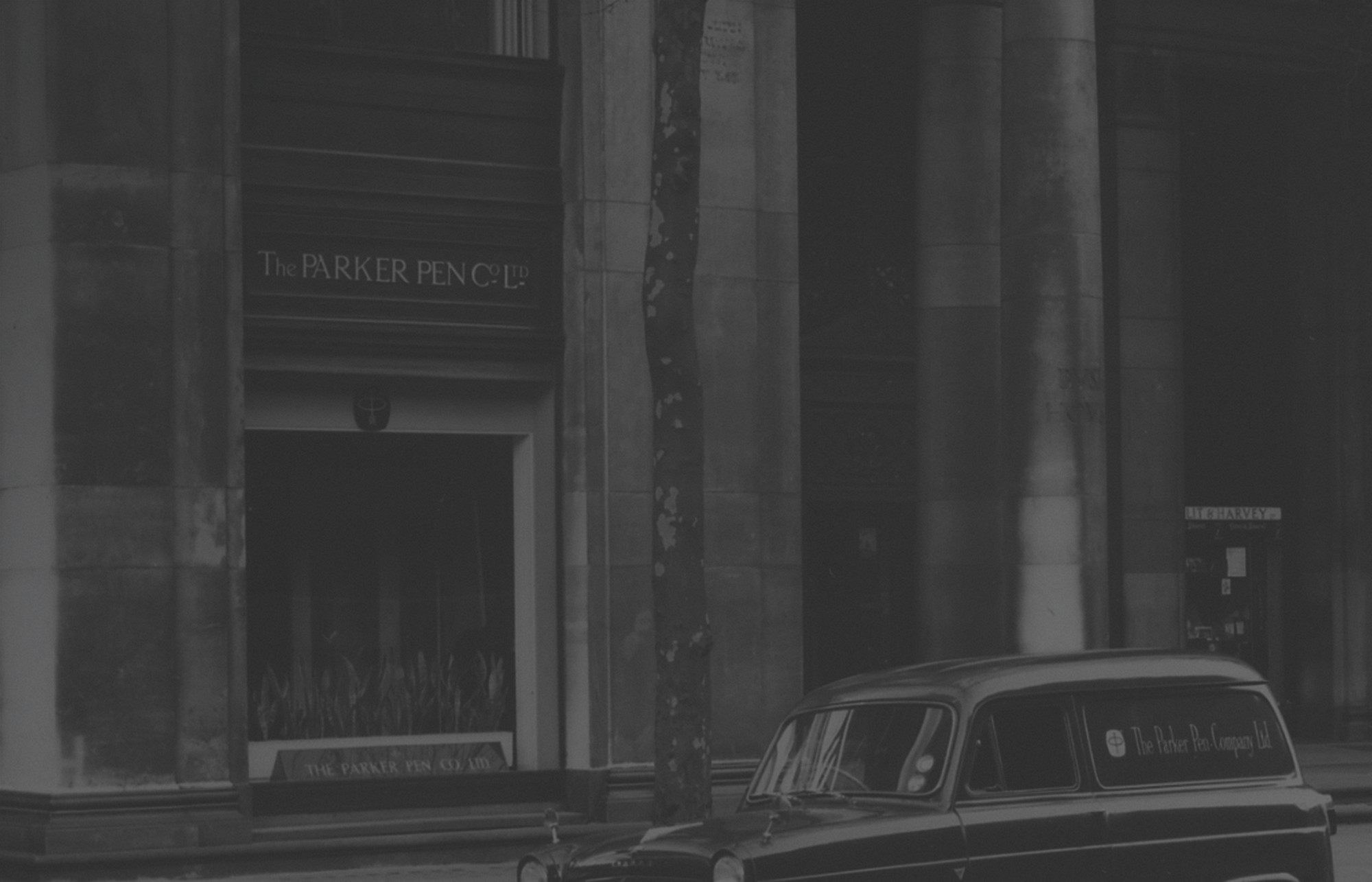 PARKER'S LEGACY
George Parker always drove his company forward through innovation. As he famously put it:

"It will always be possible to make a better pen."

These are the true icons that make up the Parker legacy.
?
Chapter I EMBLEMATIC DUOFOLD

Launched in 1921, Duofold captured the spirit of the Roaring Twenties. A large, bold, premium priced pen and the most contemporary of its time, Duofold became world famous with the 'Big Red' for its vibrant bright orange colour and 25-year guarantee.

Inspired by trends in aviation, the Dufold also became known for its iconic advertising, demonstrating the durability of its revolutionary plastic finish which, when dropped from an airplane, was proven to resist cracking.

CHAPTER II LUCKY CURVE

George Parker constantly repaired pens he found fault with, experimenting with new ways to prevent ink leaks. All pens at the time, when not in use, kept surplus ink in the ink-channels that would leak when re-used. PARKER solved this problem with an ink feed that was curved, touching the inside of the pen. Capillary force then withdrew the surplus ink back into the pen, preventing leaks. In 1894, he patented the innovation as The Lucky Curve and it revolutionized the pen industry, proving so successful its logo was stamped on to the Duofold and it remained in production for decades until 1929.

CHAPTER III ARROW CLIP

First featured as a clip on the Vacumatic pen in 1933, the arrow symbolises PARKER's pioneering attitude. In 1957 it became the brand's emblem and was evolved in 2015 to match the brand's modern standards of sophistication and luxury. Leaning into PARKER's heritage and inspired by arrow clips of the past, the arrow motif was maintained as a signal of writing precision, whilst the dynamic thick to thin arrow feather, almost hand-chiseled in appearance, echoes the fine art of pen making.

CHAPTER IV PARKER 51

The iconic Parker 51 was the brainchild of Kenneth Parker and the most personally symbolic pen of his career. Launched in 1941 and inspired by Kenneth's passion for aviation, his influence was instantly apparent in Parker 51's sleek styling. Its streamlined shape was a fresh concept, unparalleled in the pen industry at the time. With its stylish finish and hooded nib, Parker 51 marked a major achievement in innovation and product design. It was considered ahead of its time and received an Academy Award for Best Design.

CHAPTER V QUINK

Carrying on his father's legacy of innovation and the commitment to finding a better solution, Kenneth Parker invested three years of funding to research and develop an ink that would eliminate blotting. After 1021 experiments, a quick-drying ink, which PARKER named 'Quink,' was created. The first pen-cleaning ink that dried fast on paper and needed no blotter. It was sold in bottles designed with a low centre of gravity to prevent tipping and was successfully distributed worldwide.

CHAPTER VI JOTTER

As the ballpoint pen began to emerge in the mid-forties, PARKER, driven by the desire to only produce reliable pens, patiently conducted extensive research until perfecting the refill. And in 1954 PARKER launched Jotter to complete their portfolio. This was the first quality ballpoint pen with a large refill which has become one of the world's most iconic pens and is still to this day renowned for it's style, reliability and functionality, down to its signature click.

CHAPTER VII PARKER INGENUITY

Developed to bring the best of all writing modes together, Parker Ingenuity uses Patented 5TH Technology to adapt to your handwriting instantly. It knows your every curve for a completely smooth writing experience making it more than a pen, it's an extension of you.