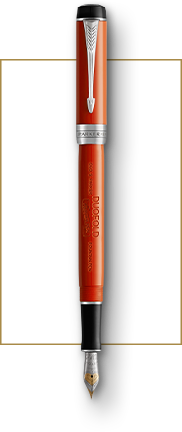 HeritageDuofold Classic
An emblem of Parker's heritage and a symbol of excellence since 1921,
Duofold remains the most distinguished pen in Parker's discerning lineage.
ꜜ
Superior CraftsmanshipDriven by a commitment to superior craftsmanship, each piece is meticulously brought together by hand to ensure the finest writing experience.

Exceptionally ComfortableDuofold offers an exceptionally comfortable and luxurious writing experience.

18-Carat Solid Gold NibExquisitely emblazed with an iconic ace design and classic Goldsmith Hallmarks, the nib is stamped with extra polished two-tone 18-carat solid gold and partially covered with rhodium finish.


ꜜ